01.12.2009 | Paper | Ausgabe 8/2009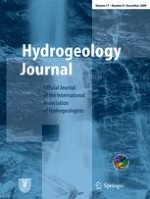 A modelling study of the effects of land management and climatic variations on groundwater inflow to Lake St Lucia, South Africa
Zeitschrift:
Autoren:

Lars Været, Bruce Kelbe, Sylvi Haldorsen, Richard H. Taylor
Abstract
Over the past few years groundwater has been recognized as an important contributor of freshwater to Lake St Lucia, South Africa during periods of prolonged drought. This has led to a management strategy aiming at increasing the groundwater recharge and minimizing groundwater use through active manipulation of the vegetation. For the Eastern Shores on the edge of Lake St Lucia, the replacement of vast areas of pine (
Pinus elliottii
) plantations with grassland over the past decade, combined with a strict burning regime, has led to a general rise of the water table, which has increased the groundwater seepage to Lake St Lucia. A numerical groundwater model has been applied to assess the effects of local management strategies on the mass balance of a shallow aquifer and these are compared to the effects of predicted climate and sea-level change for this area. The simulations indicate that local management actions that are being applied to the Eastern Shores have positive effects on the groundwater flux into Lake St Lucia and that they outweigh potential negative effects of future climate and sea-level change predicted for this area.