2019 | OriginalPaper | Buchkapitel
A Modification of the IRT-Based Standard Setting Method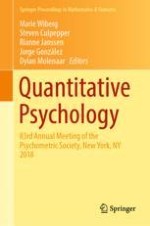 Erstes Kapitel lesen
Autoren: Pilar Rodríguez, Mario Luzardo
Abstract
We present a modification of the IRT-based standard setting method proposed by García, Abad, Olea & Aguado (Psicothema 25(2):238–244,
2013
), which we have combined with the cloud delphi method (Yang, Zeng, & Zhang in IJUFKBS 20(1):77–97,
2012
). García et al. (Psicothema 25(2):238–244,
2013
) calculate the average characteristic curve of each level, to determine cutoff scores on the basis of the joint characteristic curve. In the proposed new method, the influence of each item on the average item characteristic curve is weighted according to its proximity to the next level. Performance levels are placed on a continuous scale, with each judge asked to determine an interval for each item. The cloud delphi method is used until a stable final interval is achieved. From these judgments, the weights of each item in the scale are calculated. Then, a family of weighted average characteristic curves is calculated and in the next step, joint weighted averaged ICC are calculated. The cutoff score is determined by finding the ability where the joint weighted averaged ICC reach a certain predefined probability level. This paper compares the performance of this new procedure for a math test with the classic Bookmarking method. We will show that this modification to the method improves cutoff score estimation.