01.02.2015 | Ausgabe 1-2/2015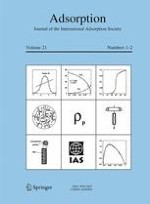 A modified multi-site occupancy model: evaluation of azeotropelike behavior in adsorption
Zeitschrift:
Autoren:

L. L. Romanielo, S. Arvelos, F. W. Tavares, K. Rajagopal
Wichtige Hinweise
Electronic supplementary material
The online version of this article (doi:
10.​1007/​s10450-014-9644-6
) contains supplementary material, which is available to authorized users.
Abstract
Even though a large number of statistical-mechanics models can be found in the literature to describe adsorption, no one is good enough to reliably predict some highly non-ideal behavior, such as the inversion of selectivity presented in the adsorption of some mixtures. This is probably due to the natural complexity of adsorption phenomena, which can be attributed to several factors such as the non-uniformity of the solids and the intermolecular forces between adsorbent-adsorbate and adsorbate–adsorbate. In order to contribute to the improvement of the models, this paper presents a study of the impact of the relative molecule sizes and the lateral interactions for the azeotropelike behavior in adsorption. Therefore, we present here a modified model based on the Nitta et al. (
1984
) Multi-Site Occupancy Model (MSOM). The ability of the model proposed here to describe binary and ternary adsorption mixtures was compared to the one obtained from the original Nitta et al. (
1984
) model and by the Vacancy Solution Model (VSM, from Suwanayuen and Danner
1980a
,
b
). The results showed that the relative size of the molecules and the lateral (adsorbate–adsorbate) interactions are very important variables in the description of the azeotropelike behavior. Even though the MSOM requires fewer parameters obtained from pure isotherm data, compared to VSM, it presented better performance for both binary and ternary mixtures. The proposed MSOM was able to predict the majority of the azeotropelike behavior studied here.