26.01.2017 | Ausgabe 1/2018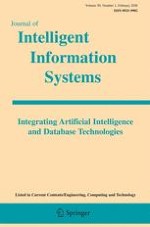 A multi-strategy approach to structural analogy making
Zeitschrift:
Autoren:

Fabio Leuzzi, Stefano Ferilli
Abstract
Analogy
is the cognitive process of matching the characterizing features of two different items. This may enable reuse of knowledge across domains, which can help to solve problems. Indeed, abstracting the 'role' of the features away from their specific embodiment in the single items is fundamental to recognize the possibility of an analogical mapping between them. The analogical reasoning process consists of five steps: retrieval, mapping, evaluation, abstraction and re-representation. This paper proposes two forms of an operator that includes all these elements, providing more power and flexibility than existing systems. In particular, the
Roles Mapper
leverages the presence of identical descriptors in the two domains, while the
Roles Argumentation-based Mapper
removes also this limitation. For generality and compliance with other reasoning operators in a multi-strategy inference setting, they exploit a simple formalism based on First-Order Logic and do not require any background knowledge or meta-knowledge. Applied to the most critical classical examples in the literature, they proved to be able to find insightful analogies.