2018 | OriginalPaper | Buchkapitel
5. A Multifaceted Liberalism and a Positive Methodology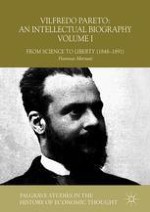 Erstes Kapitel lesen
Autor: Fiorenzo Mornati
Abstract
This chapter will deal with Pareto's wide-ranging intellectual interests during the Tuscan period, characterised by his early adoption of a liberal ideological outlook. The first section will examine the political liberalism of the young Pareto, with its clear orientation towards the ideas of John Stuart Mill, including his brief but intense alliance with political activism in favour of legislation on proportional representation, of freedom of religion (Sect.
5.2
) and of the emancipation of women (Sect.
5.3
). This is followed in Sect.
5.4
by an initial overview of Pareto's early economic liberalism, which he recognised as ideological in character notwithstanding the clear evidence of the disastrous consequences of state intervention in the economy revealed by economic history. Lastly, in Sects.
5.5
,
5.6
, and
5.7
we highlight his ongoing interest in methodological questions which can be traced back to his university years, where his wholesale endorsement of John Stuart Mill's positivistic approach was complemented by ideas borrowed from the Franco-Belgian economist and advocate of free trade Gustave de Molinari, with whom Pareto maintained close ties, also of friendship, between the late 1880s and the mid-1890s.