01.10.2016 | Ausgabe 5/2016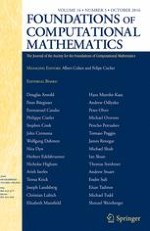 A Necessary and Sufficient Proximity Condition for Smoothness Equivalence of Nonlinear Subdivision Schemes
Zeitschrift:
Autoren:

Tom Duchamp, Gang Xie, Thomas Yu
Wichtige Hinweise
Communicated by Arieh Iserles.
Tom Duchamp gratefully acknowledges the support and hospitality provided by the IMA during his visit from April to June 2011, when part of the work in this article was completed, as well as travel support through the PIMS CRG on Applied and Computational Harmonic Analysis. Gang Xie's research was supported by the Fundamental Research Funds for the Central Universities and the National, Natural Science Foundation of China (No.11101146). Thomas Yu's research was partially supported by the National Science Foundation grants DMS 0915068 and DMS 1115915, as well as a fellowship offered by the Louis and Bessie Stein family. The main result of this paper was first presented in the workshop "New trends in subdivision and related applications" held in the University of Milano-Bicocca, Italy in September 4–7, 2012. He thanks Dennis Yang, Georgi Medvedev, and Mark Levi for discussions on dynamical systems.
Abstract
In the recent literature on subdivision methods for approximation of manifold-valued data, a certain "proximity condition" comparing a nonlinear subdivision scheme to a linear subdivision scheme has proved to be a key analytic tool for analyzing regularity properties of the scheme. This proximity condition is now well known to be a sufficient condition for the nonlinear scheme to inherit the regularity of the corresponding linear scheme (this is called
smoothness equivalence
). Necessity, however, has remained an open problem. This paper introduces a
smooth compatibility condition
together with a new proximity condition (the
differential proximity condition
). The smooth compatibility condition makes precise the relation between nonlinear and linear subdivision schemes. It is shown that under the smooth compatibility condition, the differential proximity condition is both necessary and sufficient for smoothness equivalence. It is shown that the failure of the proximity condition corresponds to the presence of
resonance terms
in a certain discrete dynamical system derived from the nonlinear scheme. Such resonance terms are then shown to slow down the convergence rate relative to the convergence rate of the corresponding linear scheme. Finally, a
super-convergence
property of nonlinear subdivision schemes is used to conclude that the slowed decay causes a breakdown of smoothness. The proof of sufficiency relies on certain properties of the Taylor expansion of nonlinear subdivision schemes, which, in addition, explain why the differential proximity condition implies the proximity conditions that appear in previous work.