01.04.2013 | Research Paper | Ausgabe 4/2013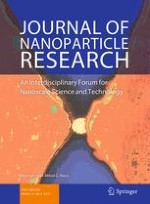 A new approach for determination of fouling potential by colloidal nanoparticles during reverse osmosis (RO) membrane filtration of seawater
Zeitschrift:
Autoren:

Ji Yeon Park, Sungil Lim, Kihong Park
Wichtige Hinweise
Special Issue Editors: Mamadou Diallo, Neil Fromer, Myung S. Jhon
This article is part of the Topical Collection on Nanotechnology for Sustainable Development
Abstract
A direct measurement of number concentration of colloidal nanoparticles (15–450 nm) in water was made with the membrane filtration-differential mobility analyzer technique, and its corresponding flux decline rate (FDR) was determined by laboratory-scale RO fouling test unit using varying number concentrations of silica nanoparticles in artificial seawaters. This relationship was used to predict fouling potential of colloidal nanoparticles in reverse osmosis (RO) membrane process of seawaters in RO plant. It was found that the FDR linearly increased with the increasing number of colloidal nanoparticles for the given concentration range and that the relationship between the number concentration and the FDR also depended on RO membrane surface properties. Data for estimated FDR values for natural seawaters after pretreatment showed a clear difference among samples, which is contrary to the pre-existing index such as silt density index and modified fouling index. Our data suggest that measurement of colloidal nanoparticles is useful for selection of proper pretreatment and successful operation of RO membrane process along with other particle fouling predictors accounting for large particles (>450 nm).