14.11.2019 | Ausgabe 2/2020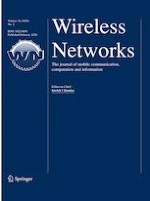 A new approach for two-way relaying networks: improving performance by successive interference cancellation, digital network coding and opportunistic relay selection
Zeitschrift:
Autoren:

Pham Ngoc Son, Tran Trung Duy
Wichtige Hinweise
Publisher's Note
Springer Nature remains neutral with regard to jurisdictional claims in published maps and institutional affiliations.
Abstract
In this paper, we propose a new approach based on combination of successive interference cancellation (SIC), digital network coding (DNC), and opportunistic relay selection in a two-way cooperative scheme in which two source nodes send simultaneously their packets to each other with a help of multiple relaying nodes, called as SIC–DNC protocol. In the proposed SIC–DNC protocol, the cooperative relays use the SIC technique to decode sequentially the packets from received sum signals, and then encode these packets by the DNC technique. These relays operate in the half-duplex mode, and suffer interference signals from imperfect SIC operations. A best relay is selected by the opportunistic relay selection based on taking maximization of signal-to-interference-plus-noise ratios from a successful decoding relay set to two source nodes in the last time slot. Exact and asymptotic closed-form outage probability expressions are obtained to evaluate the proposed SIC–DNC protocol, and then are verified by performing the Monte Carlo simulations. Our results show performance improvement of the proposed SIC–DNC protocol because of increase of the number of the cooperative relays, decrease of the residual interference signal powers, and respect to optimal relay locations and optimal power allocation coefficients of the near source. In addition, insightful comparisons with a conventional two-way decode-and-forward scheme are provided to prove highlight performances in asymmetric two-way cooperative schemes whereas the proposed SIC–DNC protocol owns better spectrum utilization efficiency. Finally, the simulation results are harvested to valid the exact and asymptotic analysis values.