01.08.2014 | Theoretical Advances | Ausgabe 3/2014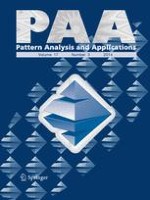 A new approach to the design of hybrid finer directional wavelet filter bank for iris feature extraction and classification using
k-out-of-n:A

post-classifier
Zeitschrift:
Autoren:

Amol D. Rahulkar, Laxman M. Waghmare, Raghunath S. Holambe
Abstract
This paper presents a novel iris feature extraction scheme using two-dimensional non-separable, non-redundant, multi-scale hybrid finer directional wavelet filter bank and classification using fused post-classifier under non-ideal environmental conditions. The proposed approach overcomes limited directionality of wavelet transform. The designed filter bank converts the wavelet basis functions to a set of directional basis elements by employing the combination of designed bi-orthogonal wavelet filter bank and modified checkerboard-shaped filter bank (designed using triplet of half-band filters). The false rejection rate is reduced with the help of
k-out-of-n:A
rule. The proposed technique is capable to handle possible artifacts especially inaccurate iris localization, occlusion of eyelids, pupil, eyelashes, reflection on iris, non-linear deformation, head-tilt, etc. The performance of the proposed scheme is validated using CASIA-Iris V2.0, MMU1, and UBIRIS databases. Finally, the performance of proposed approach is compared with other existing iris recognition algorithms to demonstrate its potential.