31.10.2018 | Ausgabe 1/2019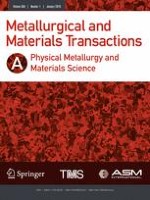 A New Approach Toward Designing and Synthesizing the Microalloying Zn Biodegradable Alloys with Improved Mechanical Properties
Zeitschrift:
Autor:

Zhilin Liu
Wichtige Hinweise
Manuscript submitted July 4, 2018.
Abstract
Zinc (Zn) possesses great potential for application in biomedical implants owing to its acceptable levels of biodegradability and biocompatibility. Unfortunately, pure Zn exhibits undesirably low strength and ductility because of the coarsening grain structures, which restrict the biomedical applications of Zn biodegradable metals. Meanwhile, high levels of multiple alloying elements, such as Al, Ag, Mg, Mn, Fe, and Sr, may result in adverse effects that require further medical treatment. In the current study, a new approach toward the design and synthesis of microalloying Zn biodegradable metals with improved mechanical properties is proposed, which relies on the synergetic effects of both grain refiner and fast cooling. Combined with experimental validation, this approach is applied to the microalloying Zn-Mg biodegradable metals. Firstly, the metallurgical interdependence theory is used together with the crystallographic edge-to-edge matching model to predict a new efficient grain refiner for pure Zn biodegradable metals. Then, the predicted grain refiner is prepared and added into super-high-purity Zn (99.995 wt pct) to determine the refining efficiency. The average grain size of microalloying Zn-Mg biodegradable metals was significantly reduced by 88.07 pct. Meanwhile, only 0.1 wt pct Mg promoted a noticeable columnar-to-equiaxed transition in the microstructures. Further, another decrease of 7.14 pct for the equiaxed grain sizes was obtained through introducing the fast cooling during solidification, where small, uniform and equiaxed grain structures fully occurred. Moreover, the mechanical properties of the microalloying Zn-Mg biodegradable metals with and without grain refinement were comparatively investigated. Below the maximum solubility (
C
m
), a remarkable improvement of the mechanical properties was generated by grain refinement and solid solution. However, a three-dimensional "eutectic-skeleton" formed beyond
C
m
, which deteriorated the corresponding mechanical properties to some extent. Finally, the mechanisms, responsible for grain refinement and the associated mechanical properties, were interpreted in line with the experimental results and theoretical analysis.