14.02.2017 | Ausgabe 6/2017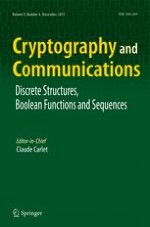 A new family of arrays with low autocorrelation
Zeitschrift:
Autoren:

Heiko Dietrich, Nathan Jolly
Wichtige Hinweise
Most results of this paper are part of the second author's PhD thesis at Monash University, Melbourne, Australia, supervised by Tom Hall, Imants Svalbe, and the first author. Both authors thank Imants Svalbe and Santiago Barrera Acevedo for feedback on previous versions of this draft. The first author was supported by an ARC DECRA (Australia), project DE140100088.
Abstract
Arrays with low autocorrelation are widely sought in applications; important examples are arrays whose periodic autocorrelation is zero for all nontrivial cyclic shifts, so-called perfect arrays. In 2001, Arasu and de Launey defined almost perfect arrays: these have size 2
u
×
v
and autocorrelation arrays with only two nonzero entries, namely 2
u
v
and −2
u
v
in positions (0,0) and (
u
,0), respectively. In this paper we present a new class of arrays with low autocorrelation: for an integer
n
≥1, we call an array
n
-perfect if it has size
n
u
×
v
and if its autocorrelation array has only
n
nonzero entries, namely
n
u
v
λ
i
in position (
i
u
,0) for
i
=0,1,…,
n
−1, where
λ
is a primitive
n
-th root of unity. Thus, an array is 1-perfect (2-perfect) if and only if it is (almost) perfect. We give examples and describe a recursive construction of families of
n
-perfect arrays of increasing size.