2017 | OriginalPaper | Buchkapitel
1. A New Lens on the Migration-home Nexus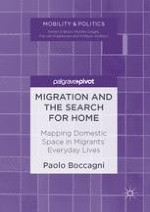 Autor: Paolo Boccagni
Verlag: Palgrave Macmillan US
Abstract
Home is an everyday, vernacular notion which potentially holds very significant conceptual implications.
Migration and the search for home
defines it as a special kind of relationship with place – a culturally and normatively oriented experience, based on the tentative attribution of a sense of security, familiarity and control to particular settings over all others. Irreducible to either house or dwelling, home is an emplaced interpersonal process with irremediably prescriptive bases. It is also a valuable lens, and a research venue and subject, for migration studies. The migrant condition is unique in casting light on home by default, or from afar, and on the opportunities and dilemmas related to its achievement. Transnational migration need not entail a simple loss of home; rather, the complex interaction between home and migration should be critically and contextually explored. The concepts of
migration-home nexus
and of
homing
point to a way ahead to do so.