01.12.2014 | Ausgabe 3/2014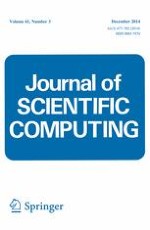 A New Level-Set Model for the Representation of Non-Smooth Geometries
Zeitschrift:
Autoren:

David P. Starinshak, Smadar Karni, Philip L. Roe
Wichtige Hinweise
This work was supported in part by DOE NNSA-ASC Grant DE-FC52-08NA28616 and NSF Award DMS 0609766. Part of this work was done while S. Karni was on sabbatical leave at the Courant Institute, NYU. The hospitality of Professor Marsha Berger and support from DOE Grant DE-FG02-88ER25053 is gratefully acknowledged.
Abstract
In Starinshak et al. (J Comput Phys 262(1):1–16,
2014
), we proposed a new level-set model for representing multimaterial flows in multiple space dimensions. Rather than associating each level-set function with the boundary of a material, the new model associates each level-set function with a pair of materials and the interface that separates them. In this paper, we extend the model to represent geometries with non-smooth boundaries. The model uses multiple level-set functions to describe the shape boundary, typically with one level-set function per smooth boundary segment. Sign information is collected from all level-set functions and a voting algorithm is used to determine the interior/exterior of the geometric shape. The model is well suited for representing boundaries with singularities; it offers significant improvement over standard level-set approaches, both in shape preservation and area conservation; and it eliminates the need for costly redistancing of the level-set function. Numerical examples illustrate the superior performance of the proposed model.