14.02.2018 | Original Paper | Ausgabe 4/2018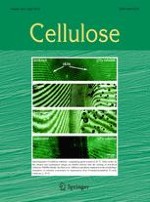 A new method for in situ synthesis of Ag–TiO2 nanocomposite particles on polyester/cellulose fabric by photoreduction and self-cleaning properties
Zeitschrift:
Autoren:

Zahra Moridi Mahdieh, Shahla Shekarriz, Faramarz Afshar Taromi, Majid Montazer
Wichtige Hinweise
Electronic supplementary material
Abstract
An efficient strategy was designed to make Ag–TiO2 nanoparticles on textile fabric by a facile single-step in situ method without adding any chemical agents. The photoreduction method was used to the synthesis of nanoparticles. The polyester/cellulose fabric was immersed in a suspension containing TiO2 nanoparticles/AgNO3 and then squeezed. The padded fabric was exposed directly to ultra violet (UV) light irradiation. Diffuse reflectance spectra confirmed the creation of plasmon peak for synthesized Ag–TiO2 at 460 nm and the more absorbance from the UV to the visible region. The elemental analysis shows the formation of the metallic silver on TiO2 nanoparticles surface by the in situ synthesis method, as evidenced by X-ray diffraction, energy-dispersive X-ray spectroscopy, and X-ray photoelectron spectroscopy. The morphological properties and nanoparticles distribution on the fabric showed Ag–TiO2 nanoparticles coating with even distribution and the average particle size of 27 ± 5 nm that was confirmed by field emission-scanning electron microscope images and map analysis. The Ag–TiO2 treated fabric presented remarkable photocatalytic activities through discoloration of methylene blue stain under sunlight, UVA (400–320 nm), and UVC (290–100 nm) irradiation.