28.01.2020 | ORIGINAL ARTICLE | Ausgabe 11-12/2020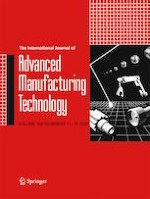 A new metric for assessing the surface roughness of agate plates cut by abrasive water jet
Autoren:

Carlos Edmundo de Abreu e Lima Ipar, Patric Daniel Neis, Ney Francisco Ferreira, Daniel Juchem Heck, Thomas Felipe Zibetti
Wichtige Hinweise
Publisher's note
Springer Nature remains neutral with regard to jurisdictional claims in published maps and institutional affiliations.
Abstract
Agate plate cut by abrasive water jet (AWJ) process has several methods for assessing its quality, but there is no consensus among researchers about to which one is the most accurate and consistent method to use. The present work presents a new approach to classify the quality level of an agate surface cut by the abrasive water jet process, which is called comparative roughness criterion (
R
c
c
). This method represents, in percentage terms, the thickness of the agate plate which is composed by the smooth zone (with good finish) in relation to the total thickness. An experimental study was conducted to validate this ratio, where the thickness of the smooth surface was defined by a surface roughness measured of the cut surface. A roughness ranging between 4 and 6
μ
m
was found in the border between the smooth and rough region of the agate plates cut by AWJ. Therefore, the comparative roughness criterion (
R
c
c
) based on roughness measurements proved to be a quantitative metric for evaluating the finish of cut agate plates under different AWJ processing conditions.