22.07.2016 | Ausgabe 3/2017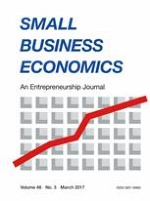 A new perspective on entrepreneurial regions: linking cultural identity with latent and manifest entrepreneurship
Zeitschrift:
Autoren:

David B. Audretsch, Martin Obschonka, Samuel D. Gosling, Jeff Potter
Abstract
What are the entrepreneurial places in the USA? Although seminal theorizing on the determinants of entrepreneurship gives culture a unique and important role, systematic empirical evidence linking the distinct cultural identity of regions to their local entrepreneurial spirit and vitality is still scarce. This study offers a first, systematic overview on the nexus between regional cultural identity and latent and manifest entrepreneurship across the USA. To directly assess regional cultural identity, we apply the
American Nations
and
Patchwork Community Types
approaches and explore in which way these distinct spatially based cultural regions are reflected by significant differences in entrepreneurial activity and underlying biologically based propensities. We combine annual entrepreneurship rates at the county level with personality data collected in a large-scale, Internet-based study of 3,457,270 US residents. The findings suggest that entrepreneurship culture reflects the dynamic interplay between the region's cultural identity and its latent and manifest entrepreneurship.