18.02.2015 | Ausgabe 2/2016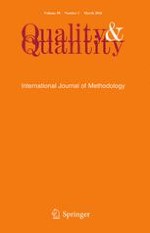 A new way of looking at old things. An application of Guttman errors analysis to the study of environmental concern
Zeitschrift:
Autor:

Enzo Loner
Abstract
This study shows how Guttman errors analysis can be applied to social research. In this work, the method is used in the study of environmental concern. The new instrument usefully chart also ways in which less evident forms of engagements may be recognized. The study uses data from the 2000
World Values Survey
and
International Social Survey Programme
. First, Mokken Scale Analysis is applied to build a cumulative scale of mobilization for the defense of the environment. Second, Guttman errors are analyzed to identify specific patterns of activism. The analysis of the indexes enable the isolation of an often elusive phenomenon not shown by other techniques: the presence of individuals with a pronounced degree of activism but who do not share the attitudes of the majority of environmentalists. These particular patterns might constitute specific ways to relate to the environment. Guttman errors analysis can be fruitfully applied in measurement of attitudes or behavior. In particular, it can shed light on the presence of individual that sociological research should consider, study and label separately.