27.06.2017 | Research Article | Ausgabe 4/2017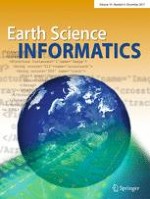 A normalization-based watermarking scheme for 2D vector map data
Zeitschrift:
Autoren:

Haowen Yan, Liming Zhang, Weifang Yang
Wichtige Hinweise
Responsible editor: H. A. Babaie
Abstract
Copyright protection of 2-dimensional (2D) vector map data is of great importance in the community of geographic information sciences. However, no blind, imperceptible and robust algorithm has been proposed by far. To fill the gap, this paper puts forwards a normalization-based watermarking algorithm for 2D vector map data: firstly, each coordinate of the original vector map data is normalized, and the watermark is shuffled; then the shuffled watermark is multiply embedded in the normalized vector data. After this, the coordinates of the watermarked data is restored (i.e. anti-normalized) for normal use. Once a suspicious copyright piracy appears, the watermarked data is re-normalized and the watermark can be detected and extracted. Our mathematical proofs and experiments have shown that the scheme owns four features that a good watermarking algorithm should possesses, i.e. usability, invisibility, blindness and robustness: the precision of the watermarked data can be guaranteed (usability); the users cannot perceive the embedded watermark (invisibility); the watermark can be extracted without knowing the original data and the original watermark; and the algorithm can resist a number of attacks such as translation, scaling, vertices reordering, vertex deletion, vertex insertion, vertex modification, cropping, and data format transformation (robustness).