2015 | OriginalPaper | Buchkapitel
A Note on Modeling Retweet Cascades on Twitter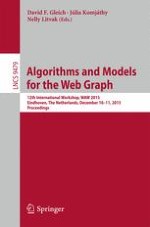 Erstes Kapitel lesen
Autoren: Ashish Goel, Kamesh Munagala, Aneesh Sharma, Hongyang Zhang
Abstract
Information cascades on social networks, such as retweet cascades on Twitter, have been often viewed as an epidemiological process, with the associated notion of
virality
to capture popular cascades that spread across the network. The notion of structural virality (or average path length) has been posited as a measure of global spread.
In this paper, we argue that this simple epidemiological view, though analytically compelling, is not the entire story. We first show empirically that the classical SIR diffusion process on the Twitter graph, even with the best possible distribution of infectiousness parameter, cannot explain the nature of observed retweet cascades on Twitter. More specifically, rather than spreading further from the source as the SIR model would predict, many cascades that have several retweets from direct followers, die out quickly beyond that.
We show that our empirical observations can be reconciled if we take
interests
of users and tweets into account. In particular, we consider a model where users have multi-dimensional interests, and connect to other users based on similarity in interests. Tweets are correspondingly labeled with interests, and propagate only in the subgraph of interested users via the SIR process. In this model, interests can be either
narrow
or
broad
, with the narrowest interest corresponding to a star graph on the interested users, with the root being the source of the tweet, and the broadest interest spanning the whole graph. We show that if tweets are generated using such a mix of interests, coupled with a varying infectiousness parameter, then we can qualitatively explain our observation that cascades die out much more quickly than is predicted by the SIR model. In the same breath, this model also explains how cascades can have large size, but low "structural virality" or average path length.