01.10.2019 | Ausgabe 10/2019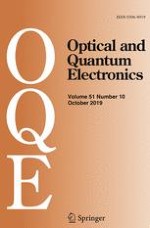 A noticeable effect of novel Nd3+ doping on physical properties of nebulizer spray deposited AZO thin films for optoelectronic technology
Zeitschrift:
Autoren:

A. Sakthivelu, K. Deva Arun Kumar, S. Valanarasu, Mohd. Shkir, V. Ganesh, A. Kathalingam, S. AlFaify
Wichtige Hinweise
Publisher's Note
Springer Nature remains neutral with regard to jurisdictional claims in published maps and institutional affiliations.
Abstract
In this work, neodymium (Nd) doped aluminum zinc oxide (Nd:AZO) films are prepared on glass substrates via simple spray nebulizer method for the first time. The different Nd doping concentrations were taken as 0%, 0.5%, 1% and 1.5 wt%, however, Al concentration was kept constant as 3 wt%. From X-ray diffraction (XRD) data, various structural properties like: crystallite size, microstrain, dislocation density, lattice constants and texture coefficient were investigated. XRD study confirmed that the Al and Nd were incorporated into ZnO. All the deposited films are of polycrystalline nature and hexagonal structure with (002) orientation. The topology studied by AFM showed that the film had low surface roughness and its values were slightly increased from 21 to 37 nm. Elemental mapping and EDAX studies confirmed the occurrence of Zn, O, Al and Nd in prepared Nd:AZO film. Transmission of deposited Nd:AZO film is around 92% in visible spectrum and estimated energy gap is ~ 3.31 eV. PL spectrum emitted one strong NBE emission at ~ 386 nm for all films, signify their better optical quality. Electrical parameters were studied by four probe measurement and low resistivity (
ρ
) i.e. ~ 4.12 × 10
−4
Ω cm and high carrier concentrations (
n
) i.e. ~ 3.96 × 10
21
cm
−3
were observed for 1.5 wt% Nd:AZO films. The calculated value of
ϕ
is large as 14.33 × 10
−3
(Ω/sq)
−1
, which are enough for an opto-electronic application.