22.04.2017 | Original Paper | Ausgabe 1/2018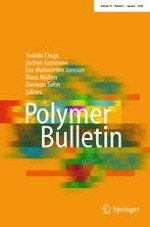 A novel approach on poly(ionic liquid)-based poly(vinyl alcohol) as a hydrophilic/hydrophobic conductive polymer electrolytes
Zeitschrift:
Autoren:

Nehad N. Rozik, Azza A. Ward
Abstract
Conducting polymer electrolytes based on poly(vinyl alcohol) (PVA) as a host polymer matrix and polyionic liquid (PIL) hydrophilic/hydrophobic were prepared by solution casting technique and characterized by FTIR, scanning electron microscope (SEM), mechanical, conductivity, dielectric spectroscopy and thermogravimetric analysis. It was found that the presence of PIL affected positively both mechanical and electrical properties of the polymer electrolytes. Polymer electrolytes with PIL-dispersion give the best tensile strength compared to those with PIL-solid. From the results of mechanical properties, it is concluded that PIL-dispersion can act as a plasticizer, whereas PIL-solid can act as traditional filler. The addition of PIL-dispersion significantly increased the permittivity
ε
′ and dielectric loss
ε
″ and improved the ionic conductivity of the polymer electrolytes compared to PIL-solid. The ionic conductivity of these polymer electrolytes is greatly increased with doping of PIL-dispersion owing to their strong plasticizing effect. The data of electric modulus
M
″ are analyzed in terms of Havriliak–Negami function through three relaxation mechanisms. In the temperature range from 50 to 150 °C, three distinct relaxation processes, namely α, αβ and β relaxations were detected in all samples. Polymer electrolytes based on hydrophilic PIL showing ionic conductivities in the range of 10
−9
–10
−5
S/cm are good candidates in construction of electrochemical cells, whereas those based on hydrophobic PIL are suitable for use in liquid membranes.