01.02.2013 | Technical Paper | Ausgabe 2/2013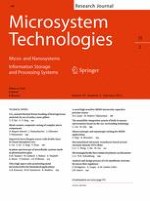 A novel high sensitive MEMS intraocular capacitive pressure sensor
Zeitschrift:
Autoren:

Bahram Azizollah Ganji, M. Shahiri-Tabarestani
Abstract
This paper presents a novel high sensitive MEMS capacitive pressure sensor that can be used as a part of LC tank implant circuit for biomedical applications. The pressure sensor has been designed to measure pressures in the range of 0–60 mmHg that is in the range of intraocular pressure sensors. Intraocular pressure sensors are important in detection and treatment of an incurable disease called glaucoma. In this paper two methods are presented to improve the sensitivity of the capacitive pressure sensor. First low stress doped polysilicon material is used as a biocompatible material instead of p++silicon in previous work (Gu in Microfabrication of an intraocular pressure sensor, M.Sc Thesis, Michigan State University, Department of Electrical and Computer Engineering,
2005
) and then some slots are added to the poly Si diaphragm. The novelty of this research relies on adding some slots on the sensor diaphragm to reduce the effect of residual stress and stiffness of diaphragm. The slotted diaphragm makes capacitive pressure sensor more sensitive that is more suitable for measuring intraocular pressure. The results yield a sensor sensitivity of 1.811 × 10
−5
for p++silicon clamped, 2.464 × 10
−5
1/Pa for polysilicon clamped and 1.13 × 10
−4
1/Pa for polysilicon slotted diaphragm. It can be seen that the sensitivity of the sensor with slotted poly Si diaphragm increased 6.2 times compared with previous work (clamped p++silicon diaphragm).