09.05.2020 | Topical Collection: Biodegradable Materials for Medical Applications II | Ausgabe 7/2020 Open Access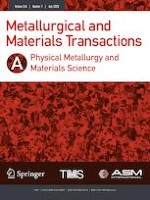 A Novel High-Strength Zn-3Ag-0.5Mg Alloy Processed by Hot Extrusion, Cold Rolling, or High-Pressure Torsion
Zeitschrift:
Autoren:

Maria Wątroba, Wiktor Bednarczyk, Jakub Kawałko, Sebastian Lech, Krzysztof Wieczerzak, Terence G. Langdon, Piotr Bała
Wichtige Hinweise
Manuscript submitted January 13, 2020.
Publisher's Note
Springer Nature remains neutral with regard to jurisdictional claims in published maps and institutional affiliations.
1

Introduction

The objective of this research was to examine the characteristics and properties of high-strength, ductile Zn-based materials fabricated by processing using hot, cold, and SPD techniques. Accordingly, a newly designed Zn-3Ag-0.5Mg alloy, a potentially biodegradable material for cardiovascular applications, was fabricated and subjected to hot extrusion, hot extrusion followed by cold rolling and high-pressure torsion at RT.
2

Experimental Material and Procedures
2.1

Materials Processing

The Zn-3Ag-0.5Mg alloy (wt pct) was fabricated by melting pure zinc (99.995 wt pct), silver (99.995 wt pct), and magnesium (99.95 wt pct) at 650 °C in a graphite crucible for 30 minutes using an induction furnace, followed by gravity casting into a steel mold. The ϕ 20 mm × 80 mm ingot was annealed at 350 °C for 4 hours to homogenize the microstructure and then water-cooled. The precise chemical composition was measured using Energy Dispersive X-ray Spectrometry (EDS) using an FEI VERSA 3D scanning electron microscope (SEM) equipped with an EDAX microanalysis system. The composition was determined based on spectra collected at 20 keV and analyzed by EDAX Genesis software utilizing ZAF correction and averaging several selected areas. The measured weight contents of Ag and Mg were 2.99 ± 0.03 wt pct and 0.54 ± 0.04 wt pct, respectively, which is close to the nominal chemical composition.

The annealed alloy was subjected to three different deformation processes. First, hot extrusion (HE) was performed at 250 °C with an extrusion speed of 0.1 mm/s and an extrusion ratio of 25:1 to obtain ϕ 4 mm rods. Second, cold rolling (CR) was carried out on the hot-extruded material in a direction parallel to the rod axis to avoid cracking the coarse-grained annealed billet. This process was performed with a thickness reduction up to 75 pct at a constant rolling speed of 0.06 m/s. Third, high-pressure torsion (HPT) was performed at RT under quasi-constrained conditions[

33

] with a constant rotation speed of 1 rpm. The annealed samples with a diameter of 9.8 mm and a thickness of 0.85 mm were processed under an applied pressure of 6.0 GPa through 5 turns to obtain a reasonably homogenous microstructure.
2.2

Microstructural Characterization

Microstructural observations of samples in the as-cast, annealed, HE, CR, and HPT states were performed using an SEM equipped with EDS and EDAX Electron Back-Scattered Diffraction (EBSD) detectors. All samples were prepared by grinding with SiC papers to #2000 grit and polishing using 3 and 1

µ

m water-free diamond suspensions. To remove the residual scratches and deformed layer, low-angle Ar

+

ion polishing was performed at 2.5 kV for 45 minutes. The observations of the as-cast and annealed samples were performed on the cross-sections and the plastically deformed samples were examined on longitudinal sections. Schematic illustrations of the alloy processing routes and the sample preparation are given in Figure

1

.
×
Lamellae from the extruded Zn-3Ag-0.5Mg alloy were prepared using an FEI Quanta 3D 200i SEM equipped with a focused ion beam (FIB) facility and analyzed using an FEI Tecnai TF 20 X-TWIN transmission electron microscope (TEM). For phase identification, EDS data were combined with selected area electron diffraction (SAED) patterns and then analyzed utilizing JEMS software. The EDAX EBSD system and TSL OIM™ software were used to acquire and analyze the crystallographic orientation maps. In order to obtain an optimal number of grains for further analysis, EBSD maps of either 120 × 120
µ
m
2
or 15 × 15
µ
m
2
were acquired with step sizes of either 150 nm (HE, CR) or 30 nm (HPT), respectively.
The average grain size, crystallographic orientation maps, texture, and grain boundary misorientation distributions were analyzed using the MTEX toolbox in Matlab™. A single grain was defined as a set of at least 5 points with a misorientation angle between neighboring grains higher than 15 deg. The misorientation angle for subgrains was set within the range of 3 to 15 deg. Only grains of the Zn-based matrix were considered and the precipitates of other phases were excluded from the analysis. Additionally, the phase composition was examined using a Panalytical Empyrean X-ray diffractometer with CuKα radiation (
λ
= 1.54 Å). Diffractograms were collected in the 20 to 90 deg range of 2
θ
angles at 40 kV, 40 mA, with a scanning rate of 0.4 deg/min and a step size of 0.02 deg. The XRD patterns were analyzed using TOPAS[
34
] software and Rietveld analysis.[
35
]
2.3

Mechanical Properties Testing

Tensile tests for materials after HE, CR, or HPT were conducted at RT using an Instron 5966 universal testing machine with initial strain rates of 10

−4

, 10

−3

, and 10

−2

s

−1

. Tensile specimens were machined from the extruded rods in HE to obtain gauge lengths and diameters equal to 30 and 3 mm, respectively. Wire electro-discharge machining was used to cut dog-bone type flat specimens with gauge sections of about 16 × 2 × 1 mm

3

along the rolling direction after CR and also to cut micro-specimens after HPT with 1.5 mm gauge lengths and gauge sections of 0.6 × 0.7 mm

2

. Based on the recorded force-displacement curves and equipment specifications, the measurement uncertainties were calculated for the measured yield stress, ultimate tensile stress, and elongation to failure.[

36

]
5

Summary and Conclusions

1.

This work focused on processing a high-strength ductile Zn-3Ag-0.5Mg alloy via hot, cold, and severe plastic deformation techniques and identifying the factors influencing the flow properties.

2.

A high strength but relatively brittle Zn alloy was obtained by hot extrusion. The additional application of cold rolling after HE gave a significantly enhanced ductility and a negligible decrease in the yield and flow stress. Processing by HPT gave a very high strength and excellent elongations to failure but with a relatively high strain rate sensitivity.

3.

The optimum processing condition for the production of cardiovascular stents appears to be cold rolling after HE where there is a reasonable yield stress and ultimate tensile stress, and good values for the strain rate sensitivity and strain hardening exponent. The results appear to satisfy the listed requirements for short-term biomedical implants but further research will be needed to evaluate the biodegradation behavior and relevant biological aspects.
Acknowledgments
This work was supported by the Polish National Science Centre [Grant Number 2018/29/N/ST8/01703]. The authors thank Dr. Marianna Marciszko for the assistance during the XRD measurements and Krzysztof Maćkosz for the preparation of thin lamellae for TEM observations, both from AGH University of Science and Technology in Cracow, Poland.
Open Access
This article is licensed under a Creative Commons Attribution 4.0 International License, which permits use, sharing, adaptation, distribution and reproduction in any medium or format, as long as you give appropriate credit to the original author(s) and the source, provide a link to the Creative Commons licence, and indicate if changes were made. The images or other third party material in this article are included in the article's Creative Commons licence, unless indicated otherwise in a credit line to the material. If material is not included in the article's Creative Commons licence and your intended use is not permitted by statutory regulation or exceeds the permitted use, you will need to obtain permission directly from the copyright holder. To view a copy of this licence, visit
http://​creativecommons.​org/​licenses/​by/​4.​0/​
.
Publisher's Note
Springer Nature remains neutral with regard to jurisdictional claims in published maps and institutional affiliations.