01.08.2014 | Ausgabe 9/2014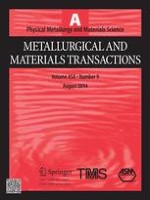 A Novel Ni-Containing Powder Metallurgy Steel with Ultrahigh Impact, Fatigue, and Tensile Properties
Zeitschrift:
Autoren:

Ming-Wei Wu, Guo-Jiun Shu, Shih-Ying Chang, Bing-Hao Lin
Wichtige Hinweise
Manuscript submitted March 22, 2013.
Abstract
The impact toughness of powder metallurgy (PM) steel is typically inferior, and it is further impaired when the microstructure is strengthened. To formulate a versatile PM steel with superior impact, fatigue, and tensile properties, the influences of various microstructures, including ferrite, pearlite, bainite, and Ni-rich areas, were identified. The correlations between impact toughness with other mechanical properties were also studied. The results demonstrated that ferrite provides more resistance to impact loading than Ni-rich martensite, followed by bainite and pearlite. However, Ni-rich martensite presents the highest transverse rupture strength (TRS), fatigue strength, tensile strength, and hardness, followed by bainite, pearlite, and ferrite. With 74 pct Ni-rich martensite and 14 pct bainite, Fe-3Cr-0.5Mo-4Ni-0.5C steel achieves the optimal combination of impact energy (39 J), TRS (2170 MPa), bending fatigue strength at 2 × 106 cycles (770 MPa), tensile strength (1323 MPa), and apparent hardness (38 HRC). The impact energy of Fe-3Cr-0.5Mo-4Ni-0.5C steel is twice as high as those of the ordinary high-strength PM steels. These findings demonstrate that a high-strength PM steel with high-toughness can be produced by optimized alloy design and microstructure.