29.03.2016 | Ausgabe 6/2016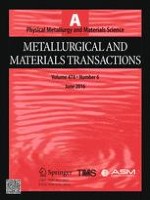 A Novel Observation on Cementite Formed During Intercritical Annealing of Medium Mn Steel
Zeitschrift:
Autoren:

Haiwen Luo, Jianhui Liu, Han Dong
Wichtige Hinweise
Manuscript submitted October 31, 2015.
Abstract
A medium Mn steel with the martensitic microstructure was rapidly heated at a high rate of 300 K/s to the intercritical temperature of 923 K (650 °C) and then isothermally hold for 5 minutes. Although cementite should dissolve above the Ae1 temperature due to the constraint of thermodynamics, it is surprising to find cementite particles after such intercritical annealing (IA), whose Mn contents and sizes are even up to 30 wt pct and 60 nm, respectively. Numerical simulations have been performed to reveal the mechanism responsible for this new observation. They indicate that a small nucleus of cementite in martensite could rapidly grow to the observed size before austenitization takes place during IA. Such a rapid growth is driven by the rapid partition of C from martensite into cementite. It is then concluded that the precipitation of cementite during the IA of martensitic Mn-alloyed steel appears inevitable no matter how high the heating rate is. Moreover, the growth kinetics of cementite depend on the composition and size of its neighboring martensitic phase, rather than those of cementite nucleus.