01.06.2015 | Ausgabe 6/2015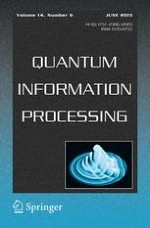 A novel quantum deniable authentication protocol without entanglement
Zeitschrift:
Autoren:

Wei-Min Shi, Jian-Biao Zhang, Yi-Hua Zhou, Yu-Guang Yang
Abstract
A novel quantum deniable authentication protocol based on single photons is proposed. In this scheme, the message sender and the specified receiver will first agree a new shared secret key by key update phases with the help of a third center, where only they can encrypt and decrypt the message by using the new shared secret key. Hence, this scheme can guarantee that only the specified receiver can identify the true source of a given message and the specified receiver cannot prove the source of the message to a third party by a transcript simulation algorithm. Compared with our previous scheme (Shi et al. in Quantum Inf Process 13:1501–1510,
2014
), this scheme has the remarkable advantages of the higher qubit efficiency and consuming fewer quantum resources. Finally, security analysis results show that this scheme satisfies known key security and the basic security requirements of deniable authentication protocol such as completeness and deniability, and can withstand forgery attack, impersonation attack and inter-resend attack.