01.02.2017 | Ausgabe 2/2017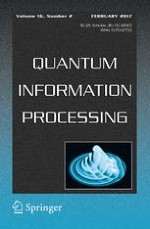 A novel quantum representation of color digital images
Zeitschrift:
Autoren:

Jianzhi Sang, Shen Wang, Qiong Li
Abstract
In this paper, we propose a novel quantum representation of color digital images (NCQI) in quantum computer. The freshly proposed quantum image representation uses the basis state of a qubit sequence to store the
RGB
value of each pixel. All pixels are stored into a normalized superposition state and can be operated simultaneously. Comparison results with the latest multi-channel representation for quantum image reveal that NCQI can achieve a quadratic speedup in quantum image preparation. Meanwhile, some NCQI-based image processing operations are discussed. Analyses and comparisons demonstrate that many color operations can be executed conveniently based on NCQI. Therefore, the proposed NCQI model is more flexible and better suited to carry out color quantum image processing.