01.10.2016 | Original Contribution | Ausgabe 10/2016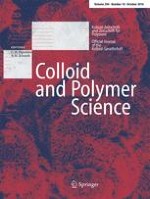 A novel radiation-induced grafting methodology to synthesize stable zerovalent iron nanoparticles at ambient atmospheric conditions
Zeitschrift:
Autoren:

Sanduni Ratnayake, Dieter Schild, Edward Maczka, Elzbieta Jartych, Johannes Luetzenkirchen, Marek Kosmulski, Madhubhashini Makehelwala, Sujithra K. Weragoda, Atula Bandara, Ranjith Wijayawardana, Rohana Chandrajith, Srimathie P. Indrarathne, Rohan Weerasooriya
Wichtige Hinweise
Electronic supplementary material
The online version of this article (doi:
10.​1007/​s00396-016-3894-7
) contains supplementary material, which is available to authorized users.
Abstract
A novel method was developed to synthesize air-stable zerovalent iron nanoparticles (hereafter nZVI) utilizing a radiation grafting technique. The nZVI were synthesized by borohydrate reduction of FeCl3 and stabilized on a radiation grafted copolymer matrix. Polyacrylic acid (PAA) grafted non-woven polyethylene/polypropylene (NWPE/PP-g-PAA) was used as the copolymer matrix and Co-60 γ-radiation was applied. The nZVI adsorbed NWPE/PP-g-PAA (hereafter nZVI-Ads-NWP) polymer composites were characterized by X-ray diffraction (XRD), X-ray photoelectron spectroscopy (XPS), vibrational spectroscopy, scanning electron microscopy (SEM), Mössbauer spectroscopy, proton titrations, and zeta potential techniques. The SEM images showed that PAA was properly grafted onto the NWPE/PP fabric during irradiation and that the nZVI were well dispersed and stabilized on the fabric surface. Vibrational spectroscopy showed supplementary evidence for the proper grafting of PAA onto the base polymer and suggested a monodentate configuration as the primary interaction between the carboxylate groups of PAA and the nZVI surface. XRD, XPS, and Mössbauer analyses revealed core zerovalent iron with a shell mainly consisting of iron oxides. The pHZPC and pHIEP values of nZVI–NaCl suspensions were 7.3. Zeta potential and surface charge data were modeled using the 1-pK Stern layer model with two dissimilar sites for electrolyte and proton binding to account for the observed charge asymmetry.