01.08.2018 | Review Paper | Ausgabe 10/2018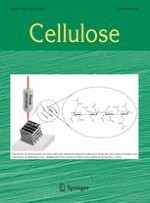 A novel reactive phosphorous flame retardant for cotton fabrics with durable flame retardancy and high whiteness due to self-buffering
Zeitschrift:
Autoren:

Dingfei Wang, Ling Zhong, Cheng Zhang, Fengxiu Zhang, Guangxian Zhang
Wichtige Hinweise
Electronic supplementary material
Abstract
A novel phosphorus-containing flame retardant, ammonium salt of triethanolamine phosphoric ester acid (ATEPEA) was facilely synthesized under moderate and solvent-free conditions. The structure of ATEPEA was characterized by 1H nuclear magnetic resonance (NMR), 13C NMR, 31P NMR and FT-IR spectra. The results showed that the ATEPEA flame retardant (FR) was successfully synthesized and grafted onto the cotton fabrics through P–O–C covalent bonds. The cotton fabrics treated with the ATEPEA have the excellent flame retardancy and durability. The limiting oxygen index (LOI) values of cotton fabrics treated with 200 and 250 g/L ATEPEA were 44.0 and 46.6%, respectively; even after 50 laundering cycles, the LOI values still had 26.2 and 27.2%, respectively. These results confirmed that the ATEPEA FR had high efficiency and conferred excellent durability on cotton fabrics. Scanning electron microscopy and energy dispersive spectroscopy suggested that the ATEPEA could infiltrate into the inner space of the cotton fibers. Thermogravimetry (TG) and TG-infrared (TG-IR) spectroscopy suggested that the ATEPEA FR generated phosphoric or polyphosphoric acid during the combustion process to catalyze the cellulose dehydration in favor of forming char. Cone calorimetry proved that the treated cotton fabrics had lower peak heat release rates and total heat release compared with those of the control cotton fabrics. The X-ray diffraction results indicated that the crystallinity of the treated cotton fibers decreased slightly. And the mechanical properties such as tensile strength, bending length, and crease recovery angle were sustained well. Additionally, the whiteness of the treated cotton fabric was maintained very well because the ATEPEA FR has the self-buffering property, and the solution of the ATEPEA FR is almost neutral. These results suggested that the ATEPEA FR is a highly effective, eco-friendly and durable FR for cotton fabrics.
Graphical abstract
×