05.02.2018 | Ausgabe 6/2018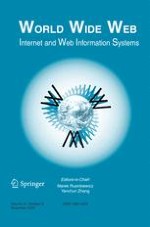 A novel relevance feedback method for CBIR
Zeitschrift:
Autoren:

Yunbo Rao, Wei Liu, Bojiang Fan, Jiali Song, Yang Yang
Wichtige Hinweise
This article belongs to the Topical Collection:
Special Issue on Deep Mining Big Social Data
Guest Editors: Xiaofeng Zhu, Gerard Sanroma, Jilian Zhang, and Brent C. Munsell
Abstract
In this paper, we address the challenge about insufficiency of training set and limited feedback information in each relevance feedback (RF) round during the process of content based image retrieval (CBIR). We propose a novel active learning scheme to utilize the labeled and unlabeled images to build the initial Support Vector Machine (SVM) classifier for image retrieving. In our framework, two main components, a pseudo-label strategy and an improved active learning selection method, are included. Moreover, a feature subspace partition algorithm is proposed to model the retrieval target from users by the analysis from relevance labeled images. Experimental results demonstrate the superiority of the proposed method on a range of databases with respect to the retrieval accuracy.