01.03.2018 | Research Article | Ausgabe 2/2018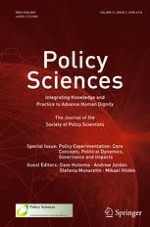 A novel understanding of experimentation in governance: co-producing innovations between "lab" and "field"
Zeitschrift:
Autoren:

Jan-Peter Voß, Arno Simons
Abstract
What do experiments do for governance? Along with pragmatist and performative conceptions, we argue that they do not test already existing conditions of governing, but actively transform such conditions. Experiments help to
realize
specific models of governance by co-producing collective knowledge and material practices. We analyze a series of experiments with "emissions trading" in the USA between 1968 and 2000. The historical perspective shows how different types of experiments worked together: experiments in the laboratory and in the field supported each other in creating epistemic and political authority. This "ping-pong between lab and field" produced subjects and objects, facts and values, knowledge and power and aligned them in a new socio-material configuration, thus realizing emissions trading as a new form of governance.