01.09.2018 | Ausgabe 3/2018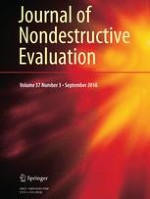 A Numerical Approach to Predict Fracture in Bio-inspired Composites Using Ultrasonic Waves
Zeitschrift:
Autoren:

Jacob Loving, Marco Fielder, Arun K. Nair
Wichtige Hinweise
Electronic supplementary material
Abstract
Bone is a biomaterial that has high resistance to fracture, but due to osteoporosis bone structure and properties deteriorates, which can lead to high fracture risk. Bio-inspired composites are an effective way to replace bone loss. We study here two bio-inspired composites, one inspired from circumferential lamella and the second from the compact bone properties respectively. The defects in bio-inspired composite materials can be detected using ultrasonic waves. The ultrasonic wave interaction with a medium can lead to information about its microstructure and material properties. To gain a better understanding of wave propagation through bio-inspired composites, ultrasound waves are modeled using the finite element method along with the Newmark's constant acceleration method to study these composites with and without defects. For the bio-inspired composite based on circumferential lamella, we observe two in-plane energy flux waves. The faster quasi-longitudinal and the slower quasi-shear will deviate from the normal direction depending on the fiber orientation in the composites. The wave interaction with defects in bio-inspired composites will split the ultrasound wave into two components with finite energy peaks. We observe that the distance between these energy peaks of the waves correspond with the size of the defect in the composite. The change in the porosity of the bio-inspired composites causes a decrease in the maximum energy flux and wave speed. We also examine the use of biologically inspired signals, which has a lower relative attenuation with a higher frequency when compared to a typical transducer to study wave propagation in composites. For the cases studied in this paper, the different input signals show no significant difference in the peak-to-peak distance in energy flux after encountering a defect when compared to a sinusoidal signal.