01.07.2014 | Original Paper | Ausgabe 1/2014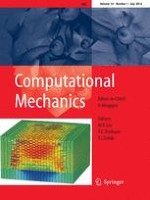 A particle finite element method for machining simulations
Zeitschrift:
Autoren:

Matthias Sabel, Christian Sator, Ralf Müller
Abstract
The particle finite element method (PFEM) appears to be a convenient technique for machining simulations, since the geometry and topology of the problem can undergo severe changes. In this work, a short outline of the PFEM-algorithm is given, which is followed by a detailed description of the involved operations. The
\(\alpha \)
-shape method, which is used to track the topology, is explained and tested by a simple example. Also the kinematics and a suitable finite element formulation are introduced. To validate the method simple settings without topological changes are considered and compared to the standard finite element method for large deformations. To examine the performance of the method, when dealing with separating material, a tensile loading is applied to a notched plate. This investigation includes a numerical analysis of the different meshing parameters, and the numerical convergence is studied. With regard to the cutting simulation it is found that only a sufficiently large number of particles (and thus a rather fine finite element discretisation) leads to converged results of process parameters, such as the cutting force.