01.06.2015 | Ausgabe 3/2015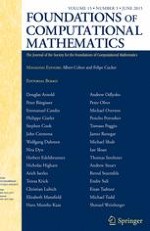 A PDE Approach to Fractional Diffusion in General Domains: A Priori Error Analysis
Zeitschrift:
Autoren:

Ricardo H. Nochetto, Enrique Otárola, Abner J. Salgado
Wichtige Hinweise
Communicated by Albert Cohen.
Abstract
The purpose of this work is to study solution techniques for problems involving fractional powers of symmetric coercive elliptic operators in a bounded domain with Dirichlet boundary conditions. These operators can be realized as the Dirichlet-to-Neumann map for a degenerate/singular elliptic problem posed on a semi-infinite cylinder, which we analyze in the framework of weighted Sobolev spaces. Motivated by the rapid decay of the solution to this problem, we propose a truncation that is suitable for numerical approximation. We discretize this truncation using first degree tensor product finite elements. We derive a priori error estimates in weighted Sobolev spaces. The estimates exhibit optimal regularity but suboptimal order for quasi-uniform meshes. For anisotropic meshes instead, they are quasi-optimal in both order and regularity. We present numerical experiments to illustrate the method's performance.