01.02.2020 | Ausgabe 5/2020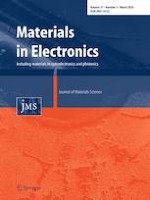 A perspective approach towards appreciable size and cost-effective solar cell fabrication by synthesizing ZnO nanoparticles from
Azadirachta indica

leaves extract using domestic microwave oven
Autoren:

P. Saravanan, K. SenthilKannan, R. Divya, M. Vimalan, S. Tamilselvan, D. Sankar
Wichtige Hinweise
Publisher's Note
Springer Nature remains neutral with regard to jurisdictional claims in published maps and institutional affiliations.
Abstract
A simple domestic microwave oven-assisted solvothermal method has been used successfully to synthesize spherical nanoparticles of zinc oxide (ZnO NPs) for solar cell fabrication using
Azadirachta indica
(Neem) leaves extract as both capping and reducing agent. The hexagonal structure of ZnO nanoparticles was confirmed by X-ray powder diffraction analysis. The Fourier-transform infrared spectrum confirms the presence of Zn–O stretching vibrations. High-resolution transmission electron microscopy images have exhibited the spherical morphology of ZnO nanoparticles which has clearly illustrated the average particle size around 4.2 nm. The selected area electron diffraction pattern contains well uniform rings confirming standard orientation. The maximum absorption wavelength for the synthesized ZnO nanoparticles was found to be more than 352 nm. The electrical measurement demonstrated that the values of dielectric constant and dielectric loss gradually decrease with increase in frequency which is described by the basis Maxwell–Wagner model. The ac conductivity of ZnO nanoparticles was also carried out. The solar cell fabrication of ZnO nanoparticles and photovoltaic devices were displayed. It was further confirmed that smaller size of ZnO nanoparticles was synthesized which had shown better cell efficiency.