Erschienen in: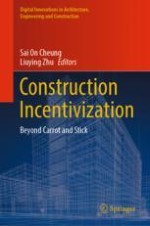 2023 | OriginalPaper | Buchkapitel
1. A Primer of Incentivization in Construction
Abstract
Many construction projects end with cost overrun, delay and defects. These undesirable outcomes are particularly disheartening with mega projects. The construction industry has been seeking ways to improve project performance and inter alia, incentive schemes have been used widely as one of the means to induce extra efforts from contracting organisations. In 2007, the Hong Kong Government announced the construction of ten mega projects. Notwithstanding these mega projects have all incorporated certain forms of incentive, delay, substantial cost overruns and quality issues have been reported. The authors observed the following pattern of use of construction incentivization (CI): (i) Most of the CI have targets set on time, cost, quality, and safety, (ii) No clear pattern of how CI are developed, (iii) 'Carrots' are used far more often than 'sticks', (iv) The use of CI is far more common in public projects than private projects, (v) Most targets are quantitative, and (vi) Choice of CI is rather incidental. Apparently, there are two major shortcomings of the prevailing CI arrangements. First, CI is anchored on motivation theories that are mostly related to individuals; Second, the targets are outcome based and mainly tied with developers' goals. This outcome-based approach is useful for tasks of high programmability with outcome that can be accurately projected. However, construction tasks, especially those that need innovation, are typically of low programmability with loose outcome predictability. To overcome these shortcomings, this primer suggests that incentivization should aim for effort greater than mere competence and go beyond carrot and stick should be used. It is advocated that integrative incentive should be used and have five functions: (1) Goal Commitment; (2) Expectation Alignment; (3) Information Exchangeability; (4) Risk Efficiency; and (5) Relationship Investment.