2018 | OriginalPaper | Buchkapitel
A Privacy-Preserving Device Tracking System Using a Low-Power Wide-Area Network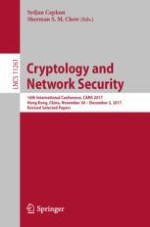 Erstes Kapitel lesen
Autoren: Tomer Ashur, Jeroen Delvaux, Sanghan Lee, Pieter Maene, Eduard Marin, Svetla Nikova, Oscar Reparaz, Vladimir Rožić, Dave Singelée, Bohan Yang, Bart Preneel
Abstract
This paper presents the design and implementation of a low-power privacy-preserving device tracking system based on
Internet of Things
(IOT) technology. The system consists of low-power nodes and a set of dedicated beacons. Each tracking node broadcasts pseudonyms and encrypted versions of observed beacon identifiers over a
Low-Power Wide-Area Network
(LPWAN). Unlike most commercial systems, our solution ensures that the device owners are the only ones who can locate their devices. We present a detailed design and validate the result with a prototype implementation that considers power and energy consumption as well as side-channel attacks. Our implementation uses
Physically Unclonable Function
(PUF) technology for secure key-storage in an innovative way. We build and evaluate a complete demonstrator with off-the-shelf IoT nodes,
Bluetooth Low Energy
(BLE) beacons, and LoRa long distance communication (LPWAN). We validate the setup for a bicycle tracking application and also estimate the requirements for a low-cost ASIC node.