28.04.2018 | Ausgabe 3/2018 Open Access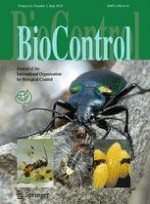 A proposal to use plant demographic data to assess potential weed biological control agents impacts on non-target plant populations
Zeitschrift:
Autoren:

Bernd Blossey, Andrea Dávalos, Wade Simmons, Jianqing Ding
Wichtige Hinweise
Electronic supplementary material
Handling Editors: Mark Schwarzländer, Cliff Moran and S. Raghu.
Abstract
Weed biocontrol programs aim to reduce the spread and population growth rate of the target plant while stabilizing or increasing populations of those native species considered under threat by invasive plants. This goal is not unique to weed biocontrol but applies to all other invasive plant management techniques, though such information is rarely collected. Without this information, success of management interventions can be ambiguous, and regulatory agencies, the public, policy makers, funders and land managers cannot be held accountable for chosen treatments. A fundamental reform, including use of demographic studies and long-term assessments, are essential to guide weed biocontrol programs. We propose to add use of plant demography (an assessment of how environmental factors and ecological interactions, for example competition, disease or herbivory, may affect plant populations by altering survival, growth, development and reproductive rates of plant individuals) during host specificity risk assessments of potential biological control agents. Demographic models can refine assessments of potential impacts for those plant species that experience some feeding or larval development during host specificity testing. Our proposed approach to focus on impact on plant demography instead of attack on plant individuals is useful in appropriately gauging threats potential weed biocontrol agents may pose to non-target species after field release.