04.07.2019 | ORIGINAL ARTICLE | Ausgabe 5-8/2019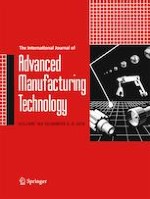 A rapid method for grain growth of Ti6Al4V alloy and its machinability
Autoren:

Zejia Zhao, Suet To, Wai Sze Yip, Zhuoxuan Zhuang
Wichtige Hinweise
Publisher's note
Springer Nature remains neutral with regard to jurisdictional claims in published maps and institutional affiliations.
Abstract
A rapid method for grain growth of Ti6Al4V alloys induced by electropulsing treatment (EPT) was proposed in this study. The results show that the initial
β
grains could reach about 0.5 mm after EPT of 20 s, and the dramatic grain growth rate is attributed to the high atom diffusion and large driving force caused by the thermal and athermal effects of EPT. Grains stop coarsening as the average grain size reaches about 2.0 mm, even though the electropulsing duration is as long as 15 min. Driving force reduction and solute drag effect supposedly result in the grain growth stagnation. The corrosion and wear resistance of the large crystal alloy with martensites are improved compared with the as-received alloy. Besides, machinability of Ti6Al4V alloys with equiaxial
α
/
β
phase and large crystal with martensites was investigated via ultraprecision diamond turning. Though the cutting force of the alloy with large crystals varies with the martensitic orientations, the average cutting force and surface roughness were smaller than that of the as-received alloy.