04.06.2018 | Original Paper | Ausgabe 18-19/2018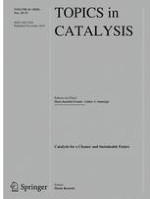 A Rational Revisiting of Niobium Oxophosphate Catalysts for Carbohydrate Biomass Reactions
Zeitschrift:
Autoren:

Sebastiano Campisi, Simona Bennici, Aline Auroux, Paolo Carniti, Antonella Gervasini
Abstract
Niobium oxophosphate acid catalyst (NbP) has great success in aqueous heterogeneous catalysis, in particular for carbohydrate biomass valorization, thanks to the
water-tolerant
acid properties of the LA (Lewis) and BA (Brønsted) sites. Attempts to tailor the acid properties of NbP by chemical treatment or dilution in inert matrix to disperse active NbP phase have been recently proposed in the literature (Carniti et al., Appl Catal B 193:93–102, 2016; Aronne et al., J Phys Chem C 121:17378–17389, 2017). The obtained samples have been used with success in the hydrolysis reaction of inulin to fructose and in hydrolysis
plus
dehydration of cellobiose to HMF. The samples have been further studied with calorimetric acid-titration measurements using 2-phenylethylamine (PEA) basic probe in various liquids (cyclohexane, water, isopropanol, and water-isopropanol mixtures) to study their
intrinsic
and
effective
acid strength. A rational revisiting of the surface acid properties of NbP and modified samples, that wants to take into account the acid-sites density and strength and the LAS to BAS ratios measured under different liquid environments in relation with their catalytic activity, is presented.