2018 | OriginalPaper | Buchkapitel
3. A Redefinition of Seismic Input for Design and Assessment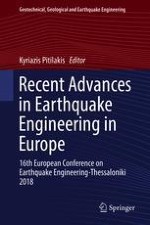 Erstes Kapitel lesen
Autoren: G. Michele Calvi, Daniela Rodrigues, Vitor Silva
Abstract
For several decades, seismologists and engineers have struggled to perfect the shape of design spectra, analyzing recorded signals and speculating on probabilities. In this process, several solutions have been proposed, including considering more than one period to define a spectral shape, or proposing different spectral shapes as a function of the return period of the design ground motion.
However, the basic assumption of adopting essentially three fundamental criteria, i.e.: constant acceleration at low periods, constant displacement at long periods, constant velocity in an intermediate period range, has never been thoroughly questioned.
In this contribution, the grounds of a constant velocity assumption is discussed and shown to be disputable and not physically based. Spectral shapes based on different logics are shown to be consistent with the experimental evidence of several hundred recorded ground motions and to lead to significant differences in terms of displacement and acceleration demand.
The main parameters considered to define the seismic input are magnitude and epicenter distance. The possible influence of other parameters – such as focal depth and fault distance, duration and number of significant cycles, local amplification – will the subject of future studies.
Novel forms of ground motion prediction equations and of hazard maps may result from this approach.
Specific points of interest include the generation and adaptation of acceleration and displacement time histories for design, the possibility of including the effects of energy dissipation on the side of capacity rather than on that of demand, the consistent generation of floor spectra for design and assessment of non-structural elements.