09.04.2020 | Original Research | Ausgabe 9/2020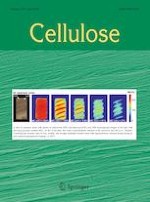 A reproducible method to characterize the bulk morphology of cellulose nanocrystals and nanofibers by transmission electron microscopy
Zeitschrift:
Autoren:

Cristina Campano, Ana Balea, Ángeles Blanco, Carlos Negro
Wichtige Hinweise
Electronic supplementary material
Publisher's Note
Springer Nature remains neutral with regard to jurisdictional claims in published maps and institutional affiliations.
Abstract
With the increased use of nanocelluloses as additives in many industrial applications, better characterization methods are needed to ensure their effectiveness. Transmission electron microscopy (TEM) is an appropriate image acquisition system to enable their morphological characterization. The use of TEM has typically been focused on determining the diameter and length of individual cellulose nanocrystals (CNCs) or nanofibers (CNFs), so different dispersion practices, such as sonication or the use of dispersants, are commonly applied to separate the particles. However, this study aims to improve the characterization of the bulk morphology of CNCs and CNFs by TEM, taking steps towards the determination of the aggregation/dispersion degree as well as the fibrillation degree of CNFs. TEM has been investigated with two types of grids (holey and Formvar/carbon), three different fixing methods (Poly-
l
-Lysine, glow discharge and UV radiation) and the use of negative staining. Fractal dimension and lacunarity were used to quantify the reproducibility of the improved method. With the use of Poly-
l
-Lysine, the attachment of CNCs and CNFs particles on the TEM grids was ensured, due to the electrostatic interactions between negatively charged nanocelluloses and positively charged and hydrophilic Poly-
l
-Lysine surfaces. The low value of lacunarity, close to 0.3, shows a very high reproducibility of the methodology proposed. With this new approach, the state that the nanocelluloses have in suspension can be directly characterized by TEM.
Graphic abstract
×