02.01.2019 | Original Contribution | Ausgabe 2/2019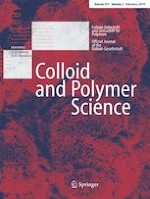 A reverse lyotropic liquid crystal formed by cetylpyridiniumchloride in cyclohexane with the assistance of aromatic counterions
Zeitschrift:
Autoren:

Pan-pan Gu, Jian-xi Zhao
Wichtige Hinweise
Electronic supplementary material
Publisher's Note
Springer Nature remains neutral with regard to jurisdictional claims in published maps and institutional affiliations.
Abstract
The self-assembly of the cationic surfactant cetylpyridiniumchloride (CPC) in cyclohexane was studied using polarizing-microscopy (POM), small angle X-ray scattering (SAXS), and rheology measurements. Homogeneous solutions of CPC/aromatic salts were produced using aromatic salts, specifically, NaBzs, NaNphs, or NaSal. The majority of the samples showed highly viscous gel-like appearances. SAXS measurements together with POM observations indicate hexagonal liquid crystals in both the CPC/NaNphs and CPC/NaSal, while multiple types of aggregates were shown to co-exist in the CPC/NaBzs. These were attributed to the interactions of aromatic counterions with the pyridinium head-group of CPC, resulting in increased size of the CPC head to different extents depending on the aromatic counterions. The formation of core-shell aggregates consequently caused further packing into liquid crystals. The specific role of NaSal that carried an
ortho
-hydroxyl in its benzene ring is discussed, and the mechanism of trace water molecules bridging neighboring NaSal molecules was revealed according to Fourier transform infrared (FT-IR) measurements. The samples had high viscoelasticity, for example, the steady-state low-shear viscosity at a shear rate of 0.001,
η
L
, of the samples at
W
0
 = 32 was 3.3 × 10
5
, 2.0 × 10
4
, and 6.8 × 10
2
Pa·s for CPC/NaBzs, CPC/NaNphs, and CPC/NaSal, respectively, at 25 °C. The corresponding elastic plateau moduli,
G
′
P
, were 1.9 × 10
3
, 1.1 × 10
3
, and 1.1 × 10
2
Pa, respectively. The temperature effect was examined for samples at
W
0
 = 32, which were found to retain high viscosity at higher temperatures, for example, the relative viscosity to solvent cyclohexane,
η
r
, reached 10
7
and 10
5
for CPC/NaBzs and CPC/NaNphs, respectively, at 70 °C.
×