13.11.2017 | LCA FOR AGRICULTURAL PRACTICES AND BIOBASED INDUSTRIAL PRODUCTS | Ausgabe 9/2018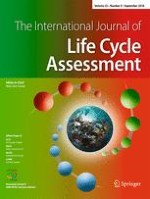 A review of environmental life cycle assessment studies examining cheese production
Zeitschrift:
Autoren:

William Finnegan, Mingjia Yan, Nicholas M. Holden, Jamie Goggins
Wichtige Hinweise
Responsible editor: Greg Thoma
Abstract
Purpose
Cheese is one of the world's most widely consumed dairy products and its popularity is ever growing. However, as concerns for the environmental impact of industries increase, products like cheese, which have a significant environmental impact, may lose their popularity. A commonly used technique to assess the environmental impact of a product is life cycle assessment (LCA). In this paper, a state-of-the-art review of LCA studies on the environmental impact of cheese production is presented.
Methods
Sixteen LCA studies, which explored the impact from the production of a variety of cheese types (fresh, mature and semi-hard) were examined and discussed. The four stages of the LCA were examined and the range of results of selected environmental impact categories (global warming potential, acidification potential and eutrophication potential) were detailed and discussed.
Results and discussion
For each of these environmental impact categories, raw milk production was consistently found to be the most significant contributor to the total impact, which was followed by processing. It was found that allocation between cheese and its by-products was crucial in determining the impact of cheese production and standardisation or guidelines may be needed. Very little information relating to wastewater treatment system and processes were reported and this leads to inaccurate environmental impact modelling relating to these aspects of the manufacture of cheese. Very few studies included the design of packaging in terms of reducing food waste, which may significantly contribute to the overall environmental impact.
Conclusions
As raw milk production was found to have the greatest contribution to environmental impact, mitigation strategies at farm-level, particularly in relation to enteric fermentation and manure management, need to be implemented. Additionally, based on the literature, there is a suggestion that fresh cheese has less of an environmental impact than semi-hard cheeses, particularly when examining direct energy consumption. However, there needs to be more case studies investigated to justify this statement.