01.04.2014 | Original paper | Ausgabe 2/2014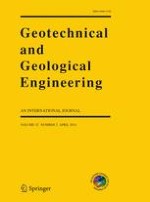 A Review of the Tensile Strength of Rock: Concepts and Testing
Zeitschrift:
Autoren:

Matthew A. Perras, Mark S. Diederichs
Abstract
A review of the tensile strength of rock was conducted to determine the relationship between direct tensile strength (DTS) and Brazilian tensile strength (BTS) and to examine the validity of estimating tensile strength from other measured properties, such as the crack initiation (CI) threshold. A data set was gathered from the existing literature where tensile values could be reliably correlated with unconfined compressive strength or CI values. It was determined that the BTS obtained in standard testing is generally greater than the equivalent DTS and that this relationship is rock type dependent. CI yields a reasonable estimate of tensile strength and this correlation is improved when the BTS values are reduced to DTS values by rock type specific correlations. The factor
f
, in DTS =
f
BTS, can be considered to be approximately 0.9 for metamorphic, 0.8 for igneous and 0.7 for sedimentary rocks. The relationships presented demonstrate that there is wide scatter in the available data for estimating tensile strength likely due to both specimen variability and testing configuration, including platen geometry and relative stiffness. Estimates of tensile strength should only be used for preliminary design purposes and measurements should be made to confirm preliminary assumptions for each design.