01.09.2014 | Original Article | Ausgabe 2/2014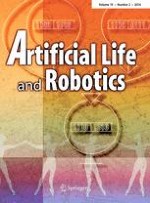 A reward allocation method for reinforcement learning in stabilizing control tasks
Zeitschrift:
Autoren:

Shu Hosokawa, Joji Kato, Kazushi Nakano
Wichtige Hinweise
This work was presented in part at the 17th International Symposium on Artificial Life and Robotics, Beppu, Oita, January 19–21, 2012.
Abstract
Reinforcement learning is an area of machine learning that does not require detailed teaching signals by a human, which is expected to be applied to real robots. In its application to real robots, the learning processes are required to be finished in a short learning period of time. A reinforcement learning method of model-free type has fast convergence speeds in the tasks such as Sutton's maze problem that aims to reach the target state in a minimum time. However, these methods are difficult to learn task to keep a stable state as long as possible. In this study, we improve the reward allocation method for the stabilizing control tasks. In stabilizing control tasks, we use the Semi-Markov decision process as an environment model. The validity of our method is demonstrated through simulation for stabilizing control of an inverted pendulum.