25.04.2018 | Original Paper | Ausgabe 1/2019 Open Access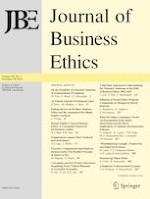 A Righteous Undocumented Economy
Zeitschrift:
Autoren:

Lee A. Swanson, Vincent Bruni-Bossio
Abstract
The academic literature commonly exposes large components of informal economies housed in developed countries as nefarious systems designed to help people evade taxes or carry on other illegal activities. However, our community-based participatory action study uncovered a significant element of a social and economic system that was largely undocumented, but was viewed as far more righteous than dishonorable and immoral. Our research involved approximately 375 participants from seven communities spread across a large and sparsely populated geographic region in the northern part of the Canadian province of Saskatchewan. The purpose for the research was to explore how entrepreneurship contributes to
the good life
, well-being, and prosperity by building social and economic capacity across a rural business ecosystem. We found that an important, yet undocumented part of the business ecosystem was grounded in history, culture, and tradition. When considered through a legitimacy theory lens, this perspective challenges the implication drawn from some of the academic literature that those who participate in informal business systems in developed countries usually do so for immoral reasons that might warrant a legal penalty. Further, we propose that researchers, policy makers, and community development professionals use the term
undocumented economy
rather than expressions like
informal, hidden
and
underground economy
to distinguish components of economic systems based on righteous motivations and activities from those founded on iniquitous practices and non-existent or unofficial record keeping. We begin this article with a definition for the undocumented economy in which we describe why we consider it to be righteous.