30.04.2020 | Ausgabe 1/2020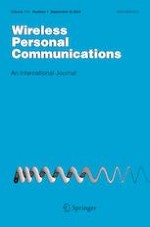 A Road Monitoring Approach with Real-Time Capturing of Events for Efficient Vehicles Safety in Smart City
Zeitschrift:
Autoren:

Nidhi Lal, Shishupal Kumar, Vijay Kumar Chaurasiya
Wichtige Hinweise
Publisher's Note
Springer Nature remains neutral with regard to jurisdictional claims in published maps and institutional affiliations.
Abstract
Nowadays, Internet-of-things (IoT) provides various services to the users by equipped with the smart devices. In this regard, the next generation of vehicles collaborates with the features of IoT to provide the safety and security on the roads. To achieve this, it equipped with short-range communication advances and establishes Vehicle-to-Vehicle (V2V) connectivity. The standardized V2V connectivity and communication are termed as IEEE 802.11p. Later, an alternative named as (LTE-V2V) has been introduced. However, both the technologies are only concerned with the continuous broadcast of information and cooperative awareness. It only takes information from one vehicle in the format of text message and sends to another. In this regard, an efficient and satisfactory safety is not provided by these technologies for analysis of real-time road traffic monitoring. A clear observation of road conditions and awareness of event triggering is a necessary task rather than broadcasting of information provided by the vehicles. Therefore in this paper, we proposed a solution by providing the real-time information about road conditions and traffic scenarios to the users. We utilized the capturing images of road conditions by the positioned cameras and Global Positioning System in order to extract the information regarding vehicle and camera position. The proposed work provides a better security rather than message passing system in V2V communication. The users in our anticipated scenarios can extract and see a clear view of road conditions by use of captured videos/images. We offered an approach named as Smart Road Monitoring for IoT based smart cities to provide an effective solution for the real-time analysis of traffic road conditions. The proposed approach gives a clear view of conditions of the road to the users such that they can make a decision according to their suitability Our proposed solution well copes with the moderate traffic conditions and provides high satisfaction score. The performance analysis is done in a comparison of V2V and LTE-V2V in terms of various metrics. The simulation results show that our proposed work can achieve high performance in the provision of providing safety compared to other scheme introduced in this field.