07.12.2016 | Original Paper | Ausgabe 7/2017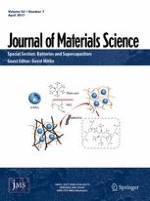 A robust pendant-type cross-linked anion exchange membrane (AEM) with high hydroxide conductivity at a moderate IEC value
Zeitschrift:
Autoren:

Yunfeng Zhang, Cuicui Li, Zehui Yang, Xupo Liu, Jiaming Dong, Yuan Liu, Weiwei Cai, Hansong Cheng
Abstract
A novel pendant-type cross-linked anion exchange membrane (
pc
-AEM) was successfully synthesized using a pre-synthesis approach to precisely control the IEC value and the degree of cross-linking. The physical properties of the
pc
-AEMs and the non-cross-linked
pc
-AEMs as well as Nafion 117 were determined, and the results were systematically compared. It was found that the synthesized
pc
-AEMs show much better dimensional retention capacity than the non-cross-linked
pc
-AEM and Nafion 117. In addition, the mechanical strength of the
pc
-AEMs was also remarkably enhanced. By increasing the IEC value of the
pc
-AEMs to the same level of Nafion 117, the highest ionic conductivity of 0.036 S/cm at 80 °C was reached. The remarkable enhancement of conductivity is chiefly attributed to the construction of highly efficient ionic transport channels resulting from the combined pendant-type and cross-linked architectures of the
pc
-AEMs.