01.06.2015 | Ausgabe 1/2015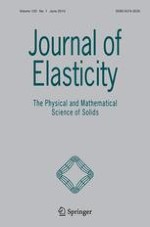 A Screw Dislocation Interacting with an Anisotropic Elliptical Nano-Inhomogeneity with Interface Stresses in Anti-Plane Elasticity
Zeitschrift:
Autoren:

Xu Wang, Peter Schiavone
Abstract
An elegant, compact and rigorous analytical solution is derived to the problem of a screw dislocation interacting with an anisotropic elliptical elastic inhomogeneity with interface stresses in the presence of remote uniform anti-plane shear stresses and uniform anti-plane eigenstrains imposed on the inhomogeneity. The screw dislocation can be located both outside and inside the inhomogeneity. The internal inhomogeneity and the surrounding matrix are monoclinic with the symmetry plane at
x
3
=0. A modified anisotropic version of the Gurtin-Murdoch model of the surface/interface elasticity is incorporated into the elastic analysis. It is clearly observed from our results that the elastic fields in the composite and image force on the screw dislocation are size-dependent.